La Tania - one of the the best resorts in the 3 Valleys
October 23, 2012
A winter holiday means something different for everyone. For some, the best way to enjoying this period of time is to cuddle up and sip hot chocolate in front of the fireplace on cozy evenings; whereas others may think of snow shoeing or hiking in the beautiful French Alps or skiing down a snowy hill in Les Trois Vallees. Whether you want to enjoy snowfall in the comfort of a warm ski chalet or prefer seeking outdoor adventures, you have to consider La Tania ski resort as one of the most ideal ski holiday destinations.
Originally built as a dormitory for athletes who took part in the Winter Olympics in 1992, La Tania is located between Courchevel and Meribel, and makes for a popular destination for vacationers who prefer small, non-crowded ski resorts for enjoying relaxing holidays on the snowy slopes. With over 600 miles of runs and many stunning ski chalets in La Tania, this small hamlet has earned massive repute across Europe as being attractive, quiet and family-friendly. Among all of the 3 Valleys resort towns, La Tania is the most laid-back town yet offers first-rate facilities and accommodations for all skiers and snowboarders but especially family holidaymakers. La Tania accommodation always offers a superb alternative to more expensive Courchevel chalets or luxury Meribel apartments.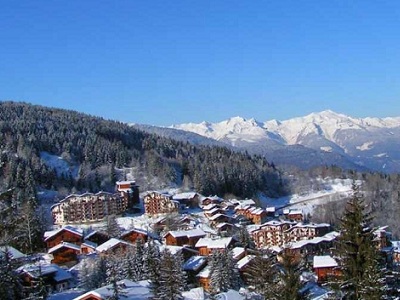 For ski lovers this small town is literally a paradise consisting of a mix of slopes for both begineers and well experienced skiers. Don't worry if you are new to skiing as the town has many ski schools and instructors that can help you master the snow plough and tackle slopes of all shapes and sizes. Even your youngest children can be guided by professional and expert trainers to whizz along the snowy slopes.
Are you experienced and need more than La Tania? You can link to other resorts of your choice quite easily because over 200 lifts are operating here, covering the entire Trois Vallees area and providing linked skiing between all the ski villages in this world famous ski area.
If you are a fan of other winter sports, you have many other options including backpacking, snowboarding, snow biking and ice climbing. Besides, walking and cross-country hiking tracks are also charming for those who enjoy less extreme activities. The town is full of awe-inspiring, natural landscapes so you don't need to go far from your cosy La Tania chalets to experience the real beauty of the Alps. Natural lovers will really appreciate romantic walks around the town's beautiful pine forest.
Sightseeing and shopping is another must in La Tania, where the town center has been designed specifically for pedestrians. Simply get to the centre of town and all entertainment and shopping convenience are at your feet. The central street is crowded with restaurants, movie theatres, coffee shops and other general shopping stores including plenty of ski equipment stores. After spending a long day skiing, shopping or sightseeing, what else you will be looking forward to other than relaxing in the warmth of you luxury chalet or ski apartment in La Tania. Why not pop in the hot tub or enjoy some of the top quality chalet catering on offer in the resort. No doubt, La Tania offers a wealth of ski accommodation for all budgets making it a really great winter holiday destination.