French ski holidays – try out Samoens, it has a lot to offer
December 01, 2012
Can Samoens be considered the perfect ski holiday resort? My attachment to the famous French ski resorts like the Trois Vallees and Val d'Isere has started dwindling. Expensive ski accommodation, ever increasing lunch prices on the pistes, the eccentric behavior of the natives, and the ski runs thronged by British skiers, are all a little annoying. Until now I have been envious of those skiers who enjoy a favourite resort because I could never find one that suited me perfectly.
That was until I rented a ski chalet in Samoens. Officially a French national historic monument the village is also part of an enormous and quite impressive ski area. Connected to the high altitude and snow sure Flaine ski resort, this authentic alpine village is just an hour's drive from Geneva and is one of the main ski resorts in the Grand Massif ski area. The Grand Massif contains five resorts in total, including Samoens, Morillon, Flaine, Les Carroz and Sixt, and offers over 260 km of pistes. The area has over three quarters of its slopes facing north so snow conditions are good here all through the season. Another good thing is that it is the French, not the Brits, that make the up most of the skiers in Samoens so the experience feels much more like a genuine French ski holiday.
The main street of Samoens is a pedestrianized zone, and boasts a magnificent square with a quite famous lime tree in the center. It is a great place for those in self catering ski accommodation as it has a bunch of shops offering local cheese, savory patisseries and delicious mountain cuisine. Every Wednesday a big market is set up to sell amazing local produce. As well as the deli and food shops, there are several cute designer boutiques offering everything from alpine knick knacks, old style skiing photographs, bear skin rugs, deer antlers and antique skis to modern ski wear and the latest trends in ski equipment. There is more than enough to persuade you to rent a luxury chalet in Samoens.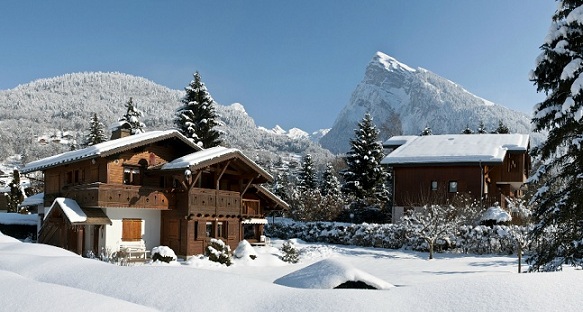 We booked a self-catering chalet online. It was furnished with a sauna, hot tub, and even a cinema room. In total is cost €3250 euros to rent the chalet but given that there was room for 15 people the price was much lower than what we would have to pay in some of the other famous French ski resorts.
Samoens is a well organized ski resort, although its one-way traffic system can be troublesome during peak hours. The first ski buses start at 8.15am if you want to hit the slopes early although we were never that keen and tended to get moving around 9.30am each morning. Watch out for the queues at the Grand Massif Express lift. This lift can get busy at peak times, although we never had to wait more than 15minutes and we were there during the busy school holidays period. There is road access to the Samoens 1600 area which means you can avoid the Grand Massif express if you have a car available. When returning in the evening you can't actually ski into Samoens village which is a little annoying but you can easily get the telecabin back down from Samoens 1600 or if you prefer ski down to Morillon village and get the ski bus back to Samoens. In fact the bus passed within 50m of our chalet which was very convenient.
The longest ski piste is the 14 kilometer Les Cascades, running from 2480 m at Grandes Platières down to Sixt and passing through the picturesque Lac de Gers. It will certainly get the legs burning for most skiers. Both beginners and intermediate skiers will enjoy the variety of the Grand Massif ski area, and of course it has more than enough for expert skiers, including in particular the Gers bowl with its 800m vertical drop off piste free riding area.
On the mountain we found that even with a large group there were good value restaurants and cafes to be found. There are plenty of lunch places where you can get a simple lunch for less than €12 and a coffee for around €3.50. It was refreshing to not get ripped off when eating on the pistes.
All in all we thoroughly enjoyed the ski holiday and for me this could be the start of a long love affair with the charming ski resort that is Samoens. If you are thinking of visiting I can certainly recommend renting a ski chalet or apartment. There is a good choice of both catered chalets and self catering accommodation in Samoens so I'm sure you will find the perfect option for your ski holiday.