Ski X World Cup comes to Val Thorens
December 21, 2012
On Wednesday the first ever round of the FIS Ski X World Cup arrived in Val Thorens. Following a week of pretty heavy snow storms the sun finally appeared and provided excellent conditions for all the competitors. Due to the heavy snowfall in previous day the finals and qualifiers were actually held on the same day rather than over a 2 day period.
For those not familiar with Ski Cross is has been an official FIS discipline since 2003 and was recently included in the Vancouver Olympics. It is a form of free style skiing similar to boarder cross and is one of the fastest growing snow sports. Ski Cross involves a group of skiers (normally 4) that start at the top of a steep slope with several natural terrain features such as jumps, rollers and ramps and the goal is the get to the finish line first. The completion starts with individual time trials to pick the top 32 skiers. After than the completion is on a knock out basis.
Last Wednesday in Val Thorens the British competitors were expected to do well but factors conspired to result in a disappointing day for the British team. Unfortunately for Emily Sarsfield (the British No. 1) her skis were delayed by her airline. She had to compete on an old set of skis and finished a disappointing 30th.
In the ladies competition the Swiss rider Fanny Smith took first position with Marte Hoeie Gjefsen (Norway) and Andrea Limbacher (Austria) following in second and third.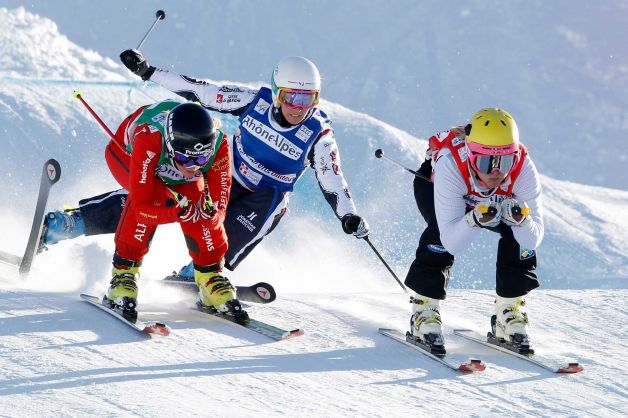 In the mens race it was again a rider from Switzerland, Armin Neiderer, with Brady Leman from Canada in second and the USA rider Joe Swensson in third.
The next Ski X rounds take place in San Candido Italy next weekend the 22nd and 23rd of December.
While visiting Val Thorens we noticed several improvement in the ski resort for this season. Over 4 million euro has been spent during the summer upgrading the cabins on the Peclet Funitel. Each cabin can now take up to 22 passengers and the cabins have been renovated with new leather seats and additional windows. 9 extra cabins have been added to increase the hourly ski uplift by 25%.
Closer to the resort we noticed some new snow cannons on the beginner runs and the Plein Sud piste has been widened to make it easier for beginners and intermediates. Overall the resort is looking good for the coming season will excellent snow cover for this stage of the year.