Best Apres Ski Bars and Nightclubs in St Anton am Arlberg
May 31, 2013
Skiing holidays aren't all about the best pistes and the most luxurious ski chalets. Even if you like to tear it up on the slopes all day there is always time after the lifts close to head out and explore the local bars and nightclubs. So, if you are in St. Anton, you should not miss an opportunity to enjoy live DJ music, exotic cocktails, party clubs and lots lots more. Of course a smattering of the best Austrian beers, wines and aperitifs always helps to get the après ski kicked off. Recognized as one of the top party resorts of Europe, St. Anton really is fascinating both on the slopes and in the nightclubs. The town is a veritable haven of cafes, bars, restaurants and nightclubs. You can enjoy everything from traditional Austrian taverns and English pubs, to trendy wine bars, on-piste bistros and of course cordeau bleu restaurants. Of course after all that you can head to the myriad of late night bars and nightclubs that dot the pedestrianized part of St Anton. The selection is such that you are very unlikely to be able to frequent them all during you ski holiday so here are our top10 favourite bars in St Anton am Arlberg.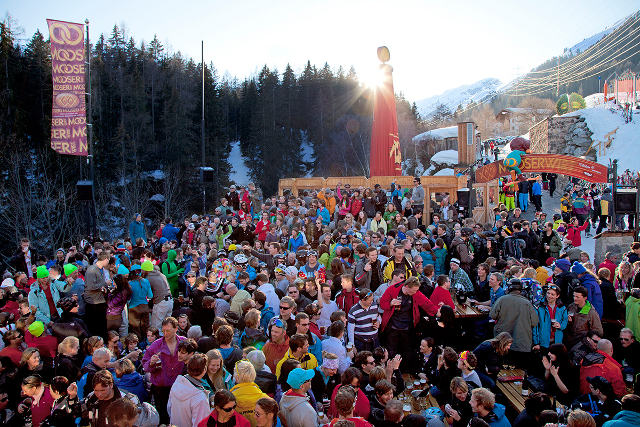 10. Anton Bar
Nestled at the bottom of the Galzigbahn piste, this is a perfect bar to watch the people passing while drinking. The sheepskin on the outside seats adds to the overall coziness and mountain feeling. It is a fine place to enjoy an après ski drink. Cheap beers attract even the ski instructors so the place is usually lively at the end of the ski day.
9. The Kandahar
If you want to dance until 6.00 in the morning, this is the place to be! Watch out though, the bar is quite expensive for drinks. Located in the Sankt Anton pedestrian zone, the bar regularly features popular international DJs such as Tim Sheridan.
8. Post Keller
Situated next to Piccadilly, this nightclub offers live music from 9 pm onwards to ensure an explosive atmosphere daily. While Piccadilly is more like a bar, Post Keller is a real nightclub. You will get to dance the night away with DJ Andi Joseph who is the in house Australian DJ. However be warned, there's an entrance fee – of course ladies enter for free.
7. Bobo's
This is a cocktail bar offering Tex Mex food and live music 3 times a week. Its' lively atmosphere attracts people making it one of the most crowded watering holes in town. Probably, it is also one of the cheaper bars in the pedestrian zone. So, instead of the Kandahar, you can explore this one and give your wallet an easier time.
6. Bar Cuba
With a happy hour from 4 to 5pm and a lively atmosphere in the evenings, you are definitely going to enjoy this laid back après-ski bar. The other draws of this groovy bar are tasty snacks, good music, and welcoming staff. It is a unique place, and you can watch sport matches very nicely as they have a good sports TV setup. This means that it gets a little crowded here during the big matches. Therefore, plan to get in early if you want to grab a good spot.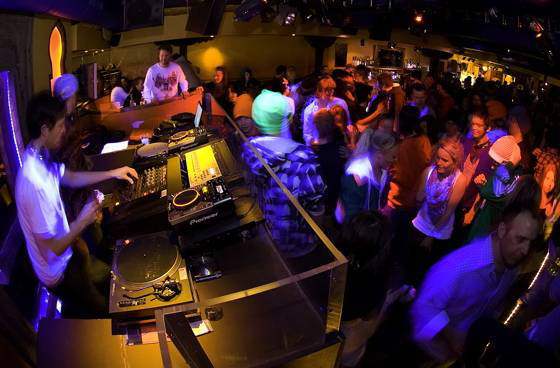 5. Piccadilly
This is from the handful of après ski bars in the town centre as most are on the slopes or at the bottom of the Galzigbahn cable car. It is a British-style pub that offers a terrific atmosphere and live music from 4 pm by Gunar who is in his 16th season entertaining the guests as they come off the slopes for some after ski relaxation.
4. Taps
Located just close to the famous Krazy Kangaruh, this is a bar that has been famous amongst the locals and ski instructors for many years. Interestingly it is an early closing bar opening only until 8 pm but visitors can still linger here until 11pm. Do try the famous local drink called Schnapps that is consumed in big quantities here.
3. Underground
Contrasting with its name, the bar just before the Galzigbahn is an ideal place to watch all sports. Adorned with great après ski atmosphere, the bar features live music in afternoons along with happy hours from 3 to 6 pm. Run by an eccentric Australian lady, Underground is such that you can find a table always to enjoy and relax even with kids.
2.Mooserwirt
This one is probably the most popular après ski bar with hundreds of skiers and snowboarders, plentiful schnapps, DJ Euro remixes, and rocking tunes. Nestled just feet away from the main pistes and town center, the bar is very famous on the St Anton party scene. The place always remains packed. Just take care! Those schnapps can creep up on you !!!
1. Heustadl
If you have a family, then this is the best bar to choose. This one is more family friendly and calmer than other bars. Interestingly, all après ski competitions starts from here, which you see as you go down Blue 1. While weekdays rock with live music, Sundays are more entertaining due to live DJs. There is also a big terrace for relaxing in the sun with a cool drink.
So if you are planning a trip to St Anton we recommend you try some of the options above. Of course these are just a few of the many bars, restaurants and nightclubs in St Anton. Also, if you need some accommodation for your stay you should check out our St Anton chalets and apartments.