Where to Go for Apres Ski in Meribel
June 14, 2013
One of the top ski holiday destinations in the French Alps has got to be The Three Valleys. Known locally as Les Trois Vallees it is without doubt one of the biggest and most exclusive ski areas in the world. Simply calling it a ski resort would not be right because it is in fact a combination of 8 ski resorts all linked with fast ski lifts to create a super ski domain. One of the most popular and indeed exclusive resorts in the 3 Valleys is the cute alpine village of Meribel. Meribel is a picturesque and lively village with a typical alpine atmosphere, attractive skiing chalets in stone and wood, extensive ski runs, a buzzing nightlife and of course the neighboring ski resorts which offer unlimited ski terrain options. Although Meribel is probably not as crazy as Val d'Isere or St Anton, its lively nightlife with varied nightclubs and pubs is enough for the most enthusiastic skiers and boarders. There is a diverse mix of après ski with on-piste bars, alpine taverns, British run bars soaked in live music and of course several nightclubs. Here is a quick heads up on the après ski in Meribel.
10. Le Loft
This is a unique nightclub split into two areas with unique atmosphere. The largest area is the busy dance floor, while the other area is at the back of the bar with comfortable lunge furnishings. So, you have two options: relax or go crazy dancing. The club is at Parc Olympique and is admired for a mix of famous dance hits and good DJs.
9. Scott's Bar
Nestled in the centre, this is a restaurant and bar featuring big sofas and chilled atmosphere. After being refurbished recently, it has become a comfier, more chilled, and more spacious zone than the upstairs Pub. You can expect funky live bands, pool table, and hip music.
8. Barometer
This one is a very lively bar for those staying in ski chalets close to the village. Nestled in the town centre and close to the bakery, Barometer is an elegant and sophisticated bar offering great music, pool tables, and relaxed atmosphere. You get to enjoy the latest beers as well as a variety of coffees and wines. The Mutzig Old Lager is one of the favourites here. There are even plasma screens to watch the live sporting events.
7. Jacks Bar
This bar is perfect for Meribel après ski being close to all the chalets and accommodation. Touted as 'your friendly local', this is a busy bar offering pub snacks, a pool table, ski-surf videos, satellite TV showing football games, and good music. Being a very famous après-ski venue, the bar is usually crowded in the evenings.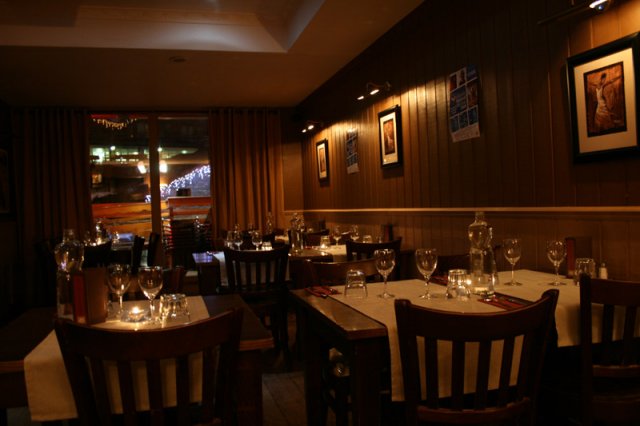 6. Evolution
Situated besides the Jacks Bar, this one is a trendy bar with sun terrace, good food, and no-smoking policy. There's also an Internet cafe and a chill-out zone with Wi-Fi. Just grab a computer to download digital pictures and prepare a CD or simply chat with your friend. The breakfast served here is ideal to combat your hangover after late night partying in Jacks Bar.
5. Le Poste de Secours
This is the one of the French bars in the area. Nestled in Meribel village centre, the bar is a 'posh' relaxing hub that is popular amidst locals and skiers alike. Come here if you wish to have Champagne and mix with the locals. The bar is famous for its cocktails and live music and events throughout winter.
4. La Taverne
This restuarant/bar is centrally located so is easily accessed from your chalet or as you come of the slopes. La Tavern caters to all moods and tastes, irrespective of the kind of meal you are looking for! There's an Internet cafe to offer 10 high speed terminals and Wi-Fi spots for chatting. Après-ski entertainment is guaranteed with happy hours, live music, and big screen sporting events.
3. Le Pub
Another centrally located British run bar. In fact this is one of the liveliest spots in Meribel. The attractions here are spacious layout with plenty of seats, lively atmosphere, live music, special promotion nights, and happy hours. There is also the pool game, spots to watch live sporting event, and a sun terrace for a relaxing après-ski drink.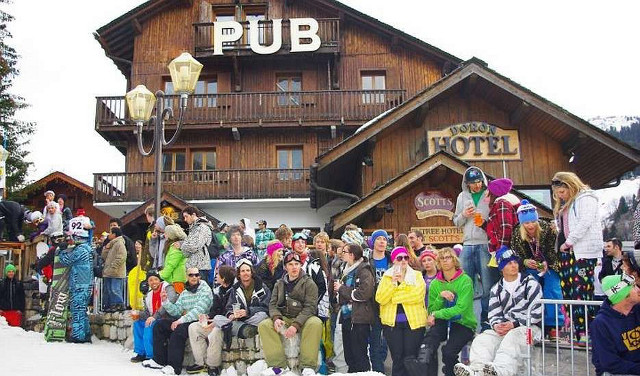 2. Aux Petits Oignions
If you do not like the louder bars in the downtown, this one is for you! It is a great restaurant and bar nestled in the Morel area. The main draws here are a big central fire, welcoming staff, typical French atmosphere, delicious home-cooked food, and warm atmosphere. Choose this one if you need a calm evening or want to pop out for a quick night cap before heading back to your chalet or apartment.
1. Le Rond Point
Nestled above the Meribel centre and below the Rhodos bubble lift, this is the most popular venue for après ski in Meribel. This is where you can enjoy drinks on the sun terrace with live music and wild dancing. Crowd starts gathering from the happy hour at 16:00 daily. Do try the infamous toffee vodka.
For more information about Meribel or the Three Valleys check this site http://www.les3vallees.com. If you need to book ski accommodation for your next holiday in Meribel we can offer a selection of chalets and ski apartments in the Meribel and 3 Valleys ski resorts. Click here for our ski accommodation in Meribel .