Unusual Destinations for your next Ski Holiday
June 24, 2014
When thinking of skiing holidays, France, Italy and Austria are some of the countries that immediately hit our mind. And, of course, this trio has garnered unbeatable repute in the skiing hall of fame and become one of the most popular ski destinations across Europe, if not the world, thanks to its awe-inspiring landscapes, famous resorts, amiable locals, and a wide array of both on pistes and off pistes skiing.
Skiing opportunities, however, can be discovered in more countries than one could imagine. Every year new destinations, resorts and towns are explored as the next big skiing retreat. So, if you are thinking of you next winter holiday resort, why not go to an unconventional location this year? This way, you will not only enjoy new and unexpectedly exciting experience, but you can save money as well.
Skiing in Slovenia
Slovenia, a small country situated in Central Europe, offers plenty of breathtaking landscapes, natural stunning beauty and a wildness not seen in more developed Alpine ski resorts. While providing an amazing ski holiday far away from the massive crowds of tourists, Slovenia offers great skiing against an absolutely stunning backdrop. There are over 10 main ski resorts in Slovenia. A lot of people don't know this but the mountains here are actually part of the southern reaches of the Alps. Slovenia's main ski resorts offer modern ski lifts and snow cannons to ensure an enjoyable ski holiday regardless of the weather conditions.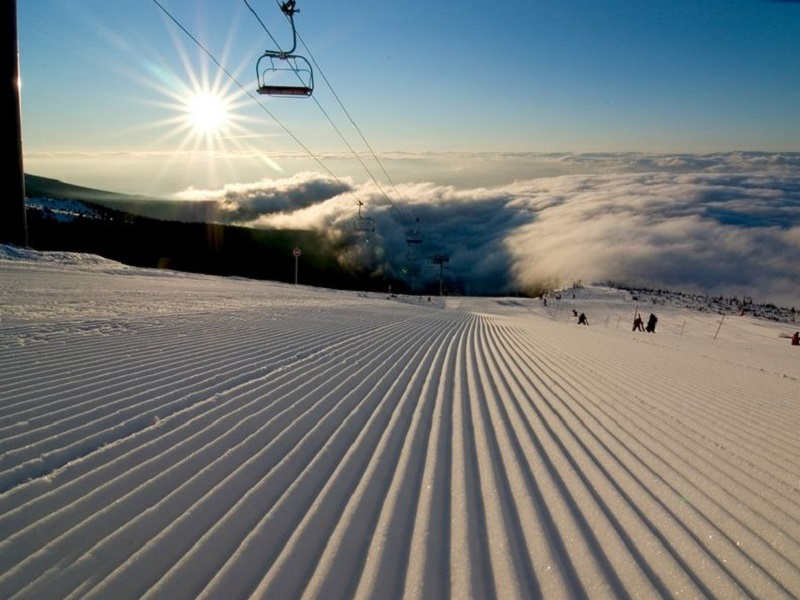 The oldest of Slovenia's winter resorts is Kranjska Gora, a summer and winter resort in northwestern Slovenia near the borders with Austria and Italy. Kranjska Gora has some of the best skiing in the Julian Alps and attracts toursist all year round. Skiing and snowboarding are popular in winter and hiking, climbing and mountain biking take over during the summer. With 13 ski lifts and pistes rising to an altitude of 1295m the resort offers something for all skiers. The locals are well known for their ski instructor skills so this is a great resort to learn to ski in. Of the experts you can try to off piste runs through the thick forests but for safety always take a mountain guide.
The area is equally popular in summer with the Triglac National Park and the nearby Lake Bohinj attracting visitors who enjoy everything from walking and hiking to rafting, canyoning, golf or fishing. The is also a summer toboggan run that is popular with the kids.
Mariborsko Pohorje is the biggest ski resort in Slovenia with some 250 ha. of skiing area.
With excellent ski slopes, beautiful natural surroundings and first-class spa and wellness centres this resort is becoming increasing popular with both local and foreign skiers. Boasting 43km of downhill pistes, 27km of cross country trails, the longest night skiing piste in Slovenia, several new ski lifts and 95% snow cannon coverage this is certainly a good option for you next ski holiday. The resort is located close to Maribor, the second biggest city in Slovenia. Maribor is a historical town located on the banks of the Drava river. The town is well worth a visit if you can tear yourself away from the skiing.
Other popular Slovenian ski resorts include Krvavec which is close to Kranj and Ljubljana. This smaller resort is good fun for a day's skiing and the new high speed gondola can take you to the top of the mountain in under seven minutes. New investment in snow cannons has helped to improve the snow conditions here.
The important point about skiing in Slovenia is that you take what you like from it. Whether you go for the skiing, the amazing wild nature or enjoy the local cuisine and culture this is an emerging ski country not to be missed. For hardcore skiers who want to pound out the miles of pistes every day then maybe it's best to skip Slovenia but for more relaxed or beginner skiers it is definitely worth a visit.
Bulgaria Ski Resorts
Bulgaria, another hot skiing destination, has grown in popularity over the years because of great slopes and affordable prices; however, you can still enjoy some of its off-the-beaten skiing areas. Borovets, Bansko and Pamporovo are the internationally known ski resorts and are most suited for skiers of all expertise levels. Borovets is the closest resort to the main international airport in Sofia. With a transfer time of just over an hour you are barely off the flight by the time you hit the slopes. Borovets is the oldest resort in Bulgaria and offers a wide range of pistes for all levels. The resort had a beautiful location in the middle of the pine forests lining the north side of the Rila mountains. As a value of money ski destination Borovets comes out on top. Accommodation and food is cheap when compared to more mainstream European ski resorts and private ski lessons are affordable. One of the big advantages of skiing in Bulgaria is the quality of ski tuition provided and the ability to take private ski lessons at an affordable price.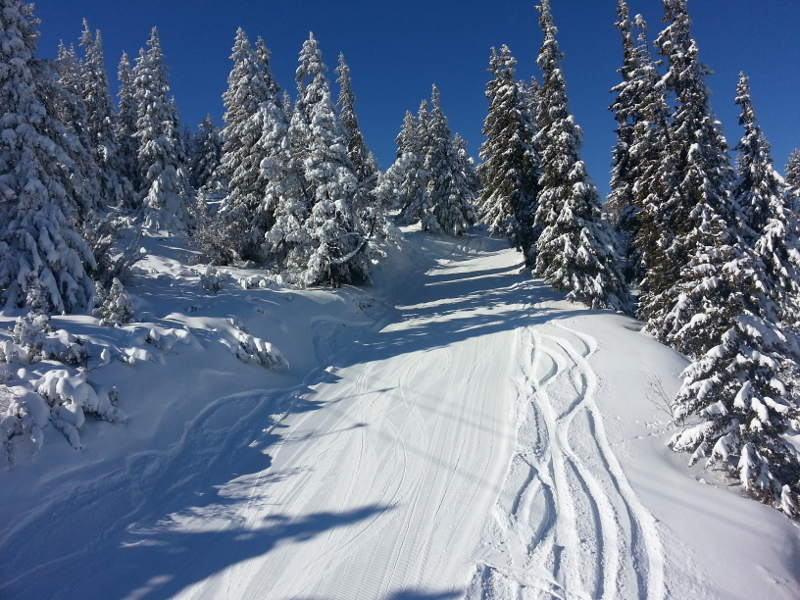 Bansko and Pamporovo are the other international ski resorts in Bulgaria and are also worth a look if planning a ski trip to the country.
If you are looking to go off the beaten track and really experience the great wilderness of the Rila Mountains you can try Malyovitsa, a scenic village about 25km drive from Borovets. Here you will come across a few enormous off-piste, deserted slopes, where you can be at one with nature. It's usually best to call ahead to make sure the lifts are running. Another resort popular with locals is the Seven Rila Lakes ski area. About 40 minutes drive from Borovets this area has a new chair lift and a couple of drags. It might sound basic but after a fresh dump of powder the area has some of the best off piste skiing in Bulgaria. You won't find ski patrols here !!! This is about being a one with the mountains. You ski where you want to and how you want to. If you are visiting the main resort of Borovets it is worth talking to locals and checking out both Malyovitsa and the Seven Lakes for day trips.
The Vitosha ski area just outside Sofia and close to Borovets is also a good spot for a day trip for for night skiing and you can enjoy some bargain shopping in Sofia city after your day on the slopes.
If you are in the area of Bansko then try Dobrinishte ski area. With one chair lift and several tree lined runs this small resort in the Pirin mountain is perfect for a day trip from Bansko.
Slovakia Ski Holidays
One more place that is worth considering for a slightly unusual ski holiday is Slovakia. The Tatras mountains in Slovakia are home to almost 100 ski resorts. The High Tatras has the most reliable snow cover with peaks like Skalnate Pleso reaching up to 1751 meters, while the Low Tatras Mountains offers charming tree-lined ski runs and quieter slopes. Skiing in Slovakia is best suited to beginner and intermediate skiers. Its resorts are similar to those in the Austrian Alps with lots of pine forests and tree lined skiing. Slovakia offers a good balance of skiing and affordability both on and off the slopes.
Slovakia's most popular ski resort is Jasna Chopok. The resort offers some 35 km of groomed pistes reaching to a height of 2020m. The resort is divided into a North and South area and you will find plenty of tree lined runs, beautiful scenery and deserted ski runs all in the heart of the Carpathian mountains. Jasna has plenty of wide blue and red runs that are well suited to beginners and intermediates. With 24 official pistes and 5 freeride zones Jasna certainly has enough to keep beginners happy for a weeks skiing and there plenty of variety for the more experienced too with several challenging off piste forest trails. Value of money is good both on and off the mountain and the local cuisine is hearty and cheap as you would expect in this mountain wilderness. There are plenty of taverns where you can enjoy a local beer while fresh lamb roasts on a spit over the fire.
Vratna is another popular ski destination in Slovakia. It offers 16 downhill slopes with a max height of 1550m. The slopes are connected with a modern cbale car and lift system. There is a good selection of cross-country trails. However with just 16km of runs it is primarily a day trip location.
There are several other resorts suitable for day trips such as PARK SNOW Donovaly (17km pistes), Tatranská Lomnica (12km pistes) and Snowparadise Veľká Rača (15 kms).
The best approach to skiing in Slovakia is to book a holiday to Jasna ski resort where you will find the best skiing, but while there you can always branch out and try a few smaller resorts. The Slovakia Super Skipass is a combined ski pass that is valid in the resorts of Jasna Nízke Tatry, Tatranska Lomnica, Stary Smokovec, Strbske Pleso, Park Snow Donovaly, Snow Paradise Velka Raca Oscadnica, Malino Brdo – Ruzomberok and Vratna Free Time Zone. Altogether, the ski pass gives access to over 120 km of pistes as well as the very impressive Aquapark Tatralandia.
Sochi - the new kid on the slopes
Sochi, in Russia, the host of the recent 2014 Winter Olympics, is also worth considering, though it has not hit the mainstream as yet. If you have been in search of a less crowded place, then this calm and peaceful Russian resort should be your next destination. Consisting of four separate resorts and boasting the most modern ski infrastructure in the world Sochi is surely going to be a location worth your time and money. With President Putin's estimated €24.5 billion allocation for the redevelopment of the entire region, it is certainly trying hard to become one of the ski hotspots of the future. At the moment it is pretty tricky and expensive to get to Sochi so it is likely to remain a mainly Russian ski resort for the foreseeable future.
Going on a skiing holiday is undoubtedly a great fun but choosing a slightly unbeaten and unconventional destination will definitely add color to your holiday. If you want to ski endless, wide, perfected pisted (maybe even boring) runs all day then you better stick to France and Austria but if you like a sense of adventure and are ready to tackle what the mountain throws at you then Bulgaria, Slovakia or Slovenia could be the next ski stop for you.
Check out some of the options for ski accommodation in these emerging destinations; Bulgaria ,Slovakia ,Slovenia