Cross-Country Skiing – tips on why and where you should ski
July 16, 2014
Cross country skiing (also known as known as "ski de fond" in France and "langlauf" in Austria) was originally conceived as a means of transportation in the mountains of Northern Europe; however, today it has evolved into a very popular winter sport and leisure activity. Of course the alpine farmers in Austria still use their skis to get around in winter and herd their mountain goats and sheep so the original format still exists. The only difference is that instead of two homemade planks of wood, these days the farmers "ride" on Salomons, Rossignols or some other hi-tech brand.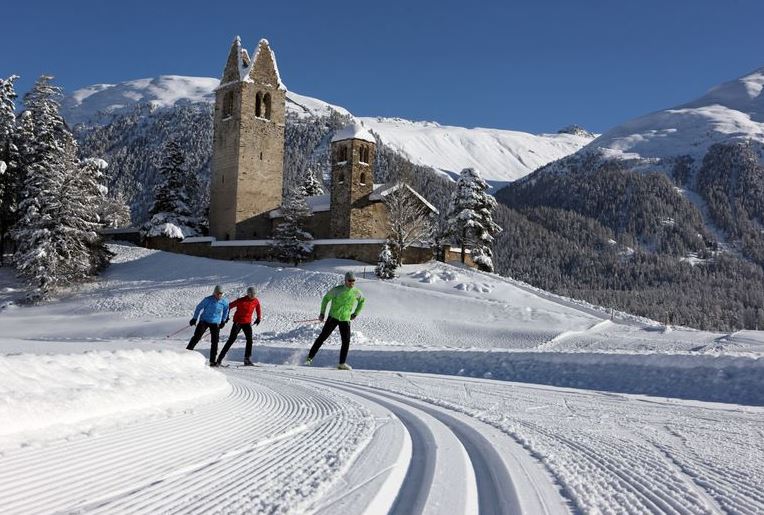 While the farmers just did it to get around, there are a number of benefits associated with cross-country skiing: everyone can master it quite easily and quickly; it provides one of the best workout opportunities; and skiers enjoy gliding over silent slopes empty of the irritating crowds of downhill riders. In comparison, the traditional downhill skiing is characterized by certain disadvantages including busy slopes, cold lifts, long waiting lines and busy expensive cafés with every seat full. Don't get me wrong, both forms of skiing are enjoyable, just in different ways.
When escaping from the hustle and bustle of the crowded downhill pistes to the peaceful environment of the lower mountains, most skiers choose either well developed cross-country routes or serene off-pistes trails. As far as routes are concerned, the majority are properly graded for distance and difficulty, thus allowing skiers of every age group to enjoy the sport for recreational as well as intense competition purposes. If you are worried about being eco-friendly then cross country is the skiing for you. Since very little infrastructure is involved in creating cross-country trails, the sport has minimum ecological effects on its surroundings. In reality you are just going for a stroll in the mountain environment with some fancy plastic tied to your feet.
Cross-country skiing delivers extraordinary health benefits. Above all, it is the least risky winter mountain sport when compared with other skiing activities like downhill alpine skiing or free riding.
Health Benefits:
Low-impact: Instead of using one body part and neglecting others, cross-country skiing involves the entire body. It means the sport does not overstress a single muscle beyond its capacity, and at the same time it can be enjoyed for hours. Unlike running and other workouts, cross country skiing does not take a toll on knees.
Complete Body Workout: Because every muscle group is targeted, this sport simultaneously reinvigorates all major muscle groups and therefore consumes a lot of energy.
Burns Maximum Calories: For those who are obsessively looking for decreasing weight, cross-country skiing carries an amazing weight loss potential. A cross-country rider can burn as much calories in an hour as a downhill skier can in two hours. It is often said that Olympic Biathletes (a sport which combines cross country skiing with target shooting) are the fittest of all athletes so you are in good company when you hit the cross country ski trails.
Perfect for your Lungs and Heart: Among typical aerobic and cardio exercises, cross country skiing is a most remarkable sport that is destined to provide amazing health benefits including the reduction of heart diseases and improvement of aerobic wellbeing.
Greater Endurance: It improves your stamina and consequently makes you able to stay energetic while easily coping with exhausting workouts and keeping away tiredness.
Other Benefits:
The Social Side: Family and friends can enjoy a great time together because cross-country skiing can be easily learnt by individuals of every age. You will find so great mountain huts and café on your cross country trails. So there are plenty of options to stop off for a scenic lunch or a quick vin chauf.
Therapeutic: Cross-country skiing will not only increase your endorphins to make you feel good but also provide you an opportunity to find some therapeutic thinking time when going right into the wild forests. Besides, the more you go further afield, the more you will be at feel peace and tranquility coming along with snowfall rolling down everywhere.
Are you interested in trying cross country skiing?
In general, if you like walking then you will enjoy cross-country skiing. You don't need any special ski clothing and it is easy to hire the special boots and skis locally. Two or three short lessons are usually enough to grasp the basics and after that it is up to yourself how challenging you make it. There are two traditional styles which you can learn. The gliding/classic stride where you move in specially cut out tramlines does not take long to master and steering is easy as you ski in the special tracks. The skis only clip onto your toes, making it easy to move - you just lean forward into the stride and lift your heel, then glide away. The skating style which is commonly associated with Olympic biathlon competitors requires a little more time and energy to master. It is best to try this after you have become comfortable with the more gentle gliding style. The important thing is to choose a style that you are comfortable with so that you can enjoy your time in the forest and mountains and admire the amazing scenery around you. Most cross country trails are dotted with skiers' huts and cafés so you are never far from a place to rest or grab some food or drink.
If you want to give a try to cross-country skiing this season here are some resorts that might interest you;
Cross Country Skiing in Austria:
Seefeld (279km)
Seefeld is Austria's most popular cross country ski resort. With almost 300km of ski trails varying from a beginners area to and Olympic track there is something on offer for all levels of ability. The trails link the 5 village of Seefeld, Mosern, Leutasch, Reith and Scharnitz with 154km of classic trails and 125km of skating style trails. The trails vary in altitude from 1180m to 1550m and a lot of the cross country trails in Seefeld have snow cannons which makes the resort one of the most snow sure in Austria in terms of cross country runs. On weeknights there is a 3km night trail with floodlights. Seefeld is good for both beginner and expert cross country skiers having several well recommended ski schools and off course the Olympic biathlon tracks for the experts. Seefeld cross country piste map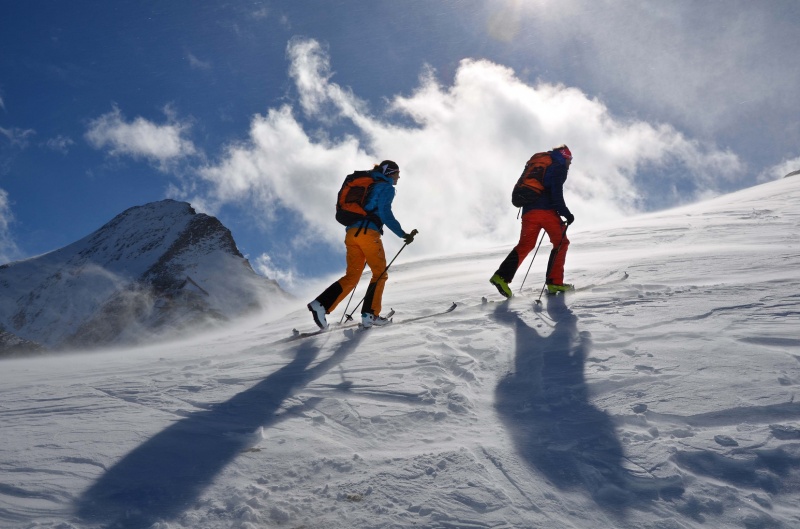 Sankt Johann (275km)
The greater St Johann in Tirol area offers an amazing 275km of cross country ski trails taking in some of the most famous ski villages in the Kitzbuheler Alps. Well groomed trails with a mix of classic and skating style trail, combined with modern infrastructure and excellent ski school makes this a great local for all levels of cross country skiers. Close to town there are 75km of cross-country trails to follow. Heading along the valley towards Kitzbuhel or towards Kirchdorf and Waidring brings you into the heart of the stunning Wilder Kaiser mountains, or the famous Kitzbuheler Alps. Ski equipment can be hired from the many ski shops in town and for beginners there is a wide choice of local ski schools offering excellent cross-country skiing lessons. The area is ideal of beginners as it offer some 150km of east trails. St Johann is host to the Austria's biggest open cross-country race - the International Tiroler Koasalauf which attracts large numbers of visitors every year. The area offer plenty of sunny trails with snow sure higher altitude track in Kirchdorf and night time flood lit slopes in St Johann and Erpfendorf
Zell am See (197km)
Zell am See-Kapun is another very popular cross country skiing destination in Austia. Both classic and skating style is well catered for and there are also several night trails. The higher altitude trails in the Schmitten and Kitzsteinhorn area offer guaranteed snow throughout the winter season. In Kaprun there is a 3km glacier trail located at 2900m altitude which offers superb conditions. Cross-country skiers even ski on the Kitzsteinhorn in the autumn months. When combined with the areas of Piesendorf – Niedernsill and Bruck – Fusch the whole area offers almost 200km of cross country skiing options. The easier trails such as Schlossloipe and Brunnwiesloipe are recommended for beginners and Bon Vivants. For experienced skiers you can connect to the Pinzgauer and Saalachtaler networks to create several long distance routes. Zell am See - Kaprun cross country piste map
Other good cross country resorts in Austria include Ellmau (83km with links to a further 200km in St Johann) and Filzmoos (40km and a further 160km in Ski Amade)
Cross Country Skiing in Switzerland:
Davos-Klosters (150km)
The Davos and Klosters cross country ski areas offers over 100km of classic trails and 46km of skating trails. The ski trails are excellently prepared and there are also night time trails. Enjoy gliding through the romantic valleys alongside the mountain stream, Nordic walking in the forests or for the more energetic you can try the FIS racing tracks in the Flüelatal valley. Whatever your level you will enjoy skiing in the Daovs Klosters ski region and best of all there is no need to purchase a ski pass. Cross country skiing in Davos is absolutely free. For something a little different you can also find dog trails in Davos. Davos has 76km classic trails, 46km skating trails, 15km of dog trails and 2.5km of floodlit night trails. Klosters has an additional 23km classic, 23km skating and 3km night trails.
Davos-Klosters cross country trail map
St Moritz (200km including the Engadin Valley)
St Moritz offer the widest choice of cross country skiing in Switzerland. A network of 200km of trails weaves through the mountains and valleys of Upper Engadin offering a range of trails suitable for all levels of cross country athletes. The routes are very well maintained and offers both classic and skating options. The Engadin Ski Marathon is held here annually and attracts skiers from around the world to enjoy the spectacular landscapes and varied skiing. And of course to compete too !!!
The Engadin valley is a mecca for cross-country skiers, with a superb combination of scenery, high quality trails and guaranteed snow cover. For a gentle start you can choose the Direttissima across the three lakes, or one of the long circular routes in the Engadin near Zuoz. More experienced skiers can tackle the famous 42km Marathon route, tackle the picturesque side valleys or do speed circuits on the racing route near St. Moritz. For excellent early or late season skiing the best option is the high altitude Alp Bondo trail which follows the Rhaetian Railway as it climbs from Pontresina to the Bernina Pass.
St Moritz cross Country trail map.
Cross Country Skiing in France:
Allthough France is quite possibly the most popular European destination from alpine downhill skiing it has surprising few cross ski de fond options. ( ski de fond is the name for cross country skiing in France)
Flaine (60km including the Agy area)
The Flaine ski area offers the highest cross country trails in France. The 17km of marked Nordic trails sit at 1844m altitude in the Col de Pierre Carree and can be accessed by the regular ski bus from Flaine center. There are also 10km of snowshoe trails in the Pierre Carree area. Just 30 minutes area in Agy there is a further 40km of trails. The Nordic trails in Agy offer spectacular tree lined routes on a sunny plateau with beautiful panoramic views over the Giffre and Arve valleys. Agy cross-country piste map
La Tania (130km in the linked 3 Valleys area)
La Tania is part of the larger 3 Valleys ski domain and is certainly better known for its 600km of alpine skiing rather than for cross country skiing. That said if you are looking for cross country skiing in France then La Tania and the 3 Valleys is one of the largest areas available.
The combined area offers some 130km of cross country tracks with classic and skating styles usually side by side on the same tracks. La Tania has a central location is on the routes that link Meribel and Courchevel so you can connect to the network of nordic tracks in either resort. Best of all is that the cross country skiing in the 3 Valleys is free of changes.
Meribel has 35m of prepared trails located in the nature reserve area of Lac de Tueda near Mottaret and also in the Altiport area near Meribel center. There is a selection of green , blue and red routes and all offer an amazing selection of alpine scenery.
In the Courchevel valley area there are another 70km of trails with various loops guiding you through the valley. From Le Praz there are green, red and black routes varying in distance from 2 to 9km. The black and red routes start from the tourist office and the green is located opposite the ski jump. In Courchevel itself there are various options such as the easy Col de la Loze blue trail at 3km length, the Bouc Blanc 5km blue track or the 5km Bouvle Bleue de Belvedere which starts beside the Granges draglift in Courchevel Moriond. The trail linking Courchevel and La Tania is one of the longer routes. At 16km and with 350m of elevation it is a red trail best suited to more confident skiers. 3 Valleys Cross-Country Piste Map
Chamonix Valley (60km across 4 areas)
Chamonix is well known as a mecca for extreme skiing. Despite it adrenaline fueled history it actually has a selection of cross country skiing areas spread throughout the valley with lots of forest trails. There are several gentle trails between Chamonix and the village of Les Bois or further along the valley in Argentière, Les Houches and Vallorcine there are more routes.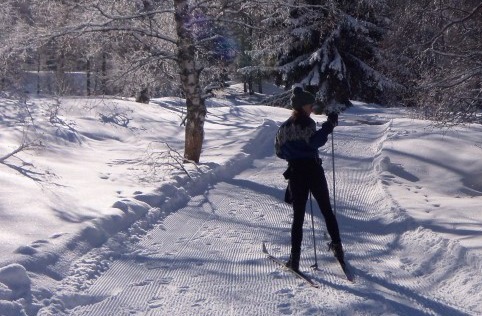 From Chamonix center you can take the Bois de Bouchet trails. These start from the Foyer du Fonds which is located opposite MBC bar on the road to Argentiere. There is an easy 3km green loop through the trees with a further 18kms of more challenging blue (Orthaz) and red (Le Bois) trails.
In Les Houches there are 2 areas for Nordic cross country skiing. The first consist of 2 very picturesque green routes around the Lac du Chavant with a total distance of 6km. The second area is up on the Plateau du Prarion at 1800m altitude. The area at the top of the Prarion has 10km of trails with amazing views of the Mont Blanc. This are is not tracked so is suitable for both cross country skiers and pedestrians.
Argentiere has 16km of mixed routes starting from the Les Iles hamlet on the Chamonix side of the town. There are 2 green (Les Iles) and blue (Les Chosalets) routes which total about 6km close to the departure point in Les Iles. For a longer more challenging route try the 10m La Moraine trail which goes through Argentiere and is classified as red with a few steeper parts.
In Les Praz you can find a 6km green route starting near the Flegere lift and lopping around the golf course.
In Vallorcine the routes start from the either the center of the village near the tourist office or else at Le Buet hamlet just before you enter Vallorcine. There are 12km of trails in total with most running through the beautiful forests along the edge of the L'Eau Noire river. The green (Le Mermy) runs for beginners are just 1.5km with the blue (La Courzille) and red (Les Mayens) trails offering a further 10km which is more suited to intermediate or experienced skiers.
There is a connecting trail through the small village of Le Lavancher which link the Chamonix and Argentiere trails but thisquite beautiful and depends on snow conditions. The staff in the Foyer du Fonds will be able to advise if this route is open during your holiday.
Chamonix Valley Cross Country Skiing Map
That wraps up our review of the cross country skiing destinations in Austria, Switzerland and France. Of course these are not the only countries to offer cross country options. Norway, Sweden and Finland are also popular with Nordic walkers and skiers and we hope to feature these destinations in a future article.
If you need to check out the accommodation options suitable for cross country skiing why not do a search for ski accommodation with cross country skiing available.
Here a a couple of videos to get you into the swing of it.
This one shows some beginner level cross country skiers
And this one shows the pros .... it takes a while to get to this level