Discounts on group lift passes in the Three Valleys
September 06, 2012
The lift company for the Three Valleys and its related resorts is pleased to offer an attractive discount on various types of lift-passes to skiers/snowboarders intending to travel together in groups of at least three people.
The world's largest and most reputed ski area, Three Valleys has announced increases of up to six per cent for the prices of lift passes, jacking them up from €244 to €260 for the next season. With €260 as the cost of a six day-pass, Les Trois Valleys is bound to become one of the costliest lift passes in Europe. However, this is not a matter of great surprise keeping in view the recently added two gondola lifts in Meribel Valley, a few chairlifts in Courchevel and the new Funival in the Val Thorens.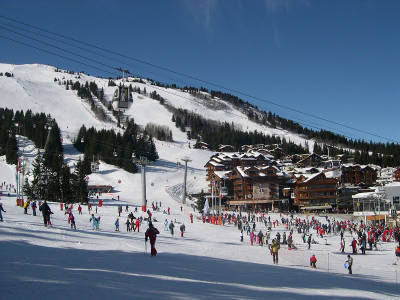 In an attempt to help tourists to endure this price hike and invite more groups to visit the world's largest skiing area, the lift company has decided to offer attractive discounts to groups of minimum three people. Now, a group made up three people minimum will be eligible to get the newly announced Tribu Pass – equivalent to three passes for six valleys - for only €735, which is no more than €245 per person. In addition, extra passes will also be obtainable for only €245 per person. This works out as exactly the same price, not the increased one, being charged in the current season.
Of course, you may be worried about the costly lift tickets but stay assured that you are going to enjoy skiing in the world's largest ski area, which consists of such scenic valleys as St. Martin de Belleville, Val Thorens, Meribel and Courchevel, all assessable by purchasing only a single pass and enjoying your journey with a world's first-class lift system. Over the last two years, the upgrading of new and faster gondolas and the addition of Funival lifts and new cable-cars in Val Thorens in addition to the proposed improvement of some chairlifts in Courchevel, clearly prove how these skiing resorts are spending this money to facilitate the skiers.
It is worth mentioning that currently the Euro is at its best rate, when compared with that of the past years (presently over €1.26 to £1). This shows the discounted lift passes for groups are still a bit economical than those of the last season; therefore, it's a really beneficial opportunity for groups made up of minimum three people each looking forward to skiing in the Three Valleys in the upcoming season. The excellent euro rate will also help keep your ski accommodation costs down so why not book a chalet in Meribel, Courchevel or any of the other 3 Valleys resorts and enjoy a luxury ski holiday in the Alps.
In addition to the full Three valleys pass, the Tribu Pass will be offered to those who would rather purchase a pass for only a single valley— an ideal opportunity for beginners who are relatively novice at skiing. A single-pass ticket, for instance for the Belleville Valley, will be available for €564 to a group of three, which costs only €188 each! Spending as little as €57 on a local lift ticket, rather than on the pass for the whole area of Three valleys is a great deal for a small scale area which still provides first-rate skiing. While considering the current exchange rate, you are supposed to paying £150 per ticket, which is surely a win-win situation for you.
The Three Valleys is determined to compete with world's top resorts and as a result has to continuously expand and improve the ski resort. The 3 Valleys offers some of the most luxurious ski accommodation in the world with Courchevel chalets being especially popular. Therefore, the increase in the prices of lift-pass has been mapped out but at the same time this new 6% discount with the Tribu pass, will surely work out to retain skiers' interest in the area, and attract even more new skiers.