Bulgaria and Slovenia come tops for cheap ski holidays
December 04, 2012
The 2012-13 ski holiday report from the Post Office has just been released and offers some interesting reading for anyone planning a ski holiday in 2013. This is the sixth year of the Post Office Ski Resort Report and the good news for skiers and snowboarders is that prices appear to be lower than last year. The report covers 27 ski resorts in Europe and North America and compares overall costs for ski holidays in each of the resorts. The report calculates the cost of ski hire, ski school, ski passes and food and drinks in each resort.
In the best value category, skiing in Bulgaria and Slovenia come tops for the second year in a row while Andorra and Finland are also good options for a cheap ski holiday. If you have to ski in the "Big 4" European destinations then Livigno, Sestiere and Cervinia in Italy are good options, Ellmau and Mayrhofen are some of the cheaper ski resorts in Austria options and Morzine offers the vest value in France.
At the top end of the ski market it is interesting that Courchevel in France which is often considered as a very expensive resort has lower prices than St. Anton in Austria and both Wengen and Zermatt in Switzerland. In North America the Canadian resort of Whistler was found to be 6 percent more expensive than either Vail or Tahoe in the USA.
Best Value Ski Resorts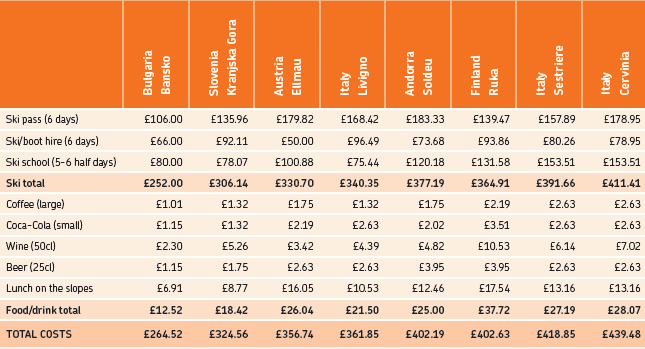 Best Family Ski Resorts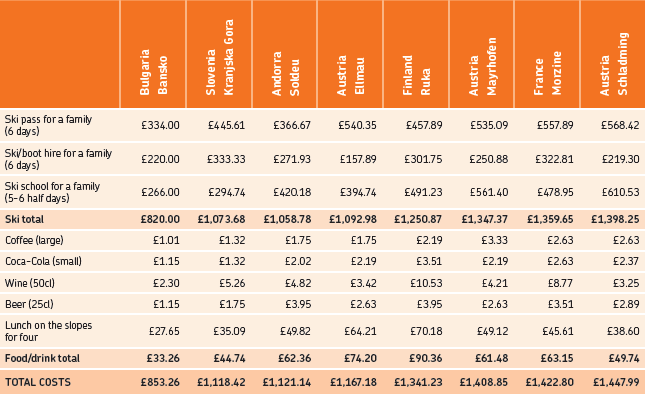 World Class Resorts