Top 10 Restaurants in Mayrhofen
April 16, 2013
Mayrhofen is one of the most popular skiing destinations in Austria. After a long day on the slopes you are sure to want to relax and enjoy some good food. Well Mayrhofen won't disappoint it that respect as it has a fine selection of restaurants and bars. The delicious food, farm fresh products, the soothing atmosphere, warm hospitality, authentic Austrian ambience and spectacular view, makes dining at the restaurants here an experience to remember. Most of the Mayrhofen restaurants are not haute cuisine gourmet spots, but one expects this in a ski resort and the comprehensive menu and delicious food they serve at reasonable prices, make up for it in a delightful way. Due to it being one of the most visited ski holiday destinations, Mayrhofen has a vast array of choices when it comes to restaurants, but just to make sure we have a selected several restaurants that will not disappoint. The following is a list of our favourite 10 restaurants in Mayrhofen.
1. Wirtshaus zum Griena
Wirtshaus zum Griena is four centuries old and if you want to taste the local authentic cuisines, there is no better place than Wirthaus in Mayrhofen. Range of sinful delights mixed with the very generous and brisk services at ultra reasonable prices (15-20 Euros), will make your experience in this famous restaurant worth remembering. They cook their dishes in the traditional Austrian style and leave it for the visitors to decide, what is best. It's ten minutes uphill from the town center and they accept credit cards.
2. Bruggerstube Restaurant
Bruggerstube is a wonderful location to sit and watch the hang gliders while feasting on traditional Austrian cuisines. This restaurant is well known among the tourists as well as being popular with the locals. Order anything from the wonderful list of items on their menu and enjoy as the mouth watering aroma drifts in from the kitchen. Have a creamy coffee or go for a mug of beer while you wait. The place is real bargain (10-20 Euros) and ten minutes drive from the city center.
3. Tiroler Stuben
Centrally located and an in-house restaurant of Landhaus Carla, the food here is super reasonable and is a treat to your taste buds. Local bands perform regularly and you can end up getting more than you bargained for with live entertainment. Do not forget to taste their Cheese Fondue, Zillertaler Krapfen and Graukas, while you are there. This is a must visit restaurant whenever you are at Mayrhofen.
4. Gasser
Located amidst picturesque surroundings in a well accessible location in Mayrhofen, Gasser boasts of having a few of the most mouthwatering traditional dishes, prepared to keep the contemporary taste buds delighted. Ridiculously cheap and mouthwatering dishes are its main attraction. If you are going down to the main Gondola, this is meat paradise and a cannot miss visiting. The Schnitzel and Gulashsoup as well as their ham hocks, chicken and ribs are a must try here.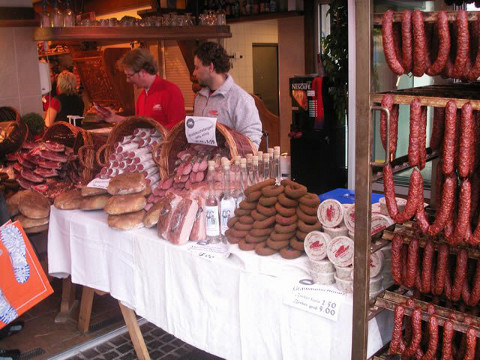 5. MO's Restaurant and Cocktail
For families with kids, Mo's is the perfect food joint, serving American cuisine as well as drinks. Not exactly the cheapest establishment, but the quality of the food and large portions make up for it. Easily accessible with modern interiors along and quick services from attentive waiters are going to soothe your senses. Do not forget to drink beer and try their lovely cocktails when visiting.
6. The Schneekar
From Pizzas to cheese, bacon and onion tart, The Schneekar has a lovely collection of items on their menu and since, it is located on the slope, the restaurant attracts huge numbers of tourist and ski boarders. Service is excellent as is view and food. The terrace has tables and you will love to sit and enjoy the view while feasting on the delicious dishes they have to offer.
7. The Kramerwirt
The Kramerwirt is a hotel, where you may stay on during your visit, but its restaurant that provides one of the most incredible Austrian dishes you would have tasted. Amazing value for your money, attentive services, and awesome view, stopping by for a brunch is definitely a must.
8. Café Kostner
Café Kostner needed its mention here even though it does not have one of the most comprehensive of menus. What is does have is an amazing view, friendly service and yes, their Apple Strudel and Coffee. Sit, relax and have your coffee with mouth your watering pastry. This is a perfect joint for families as the kids love it around here, especially the heated balcony with loads of toys.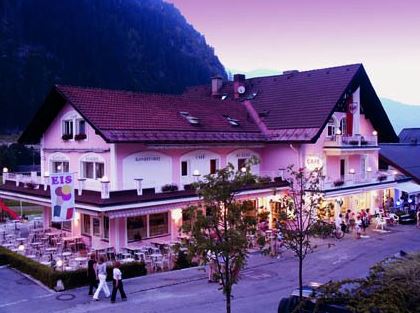 9. Grillhofalm
Grillhofam is one of the most inexpensive restaurants around. If you want to keep up with the park action, you can sit and keep a watch, while eating a great quality food served here. It is a lovely place with bright surroundings and you will love to spend some time here with your spouse. It's a favorite among the snowboarders.
10. Pizzeria Mamma Mia
If you are looking for a centrally located joint which serves good food and amazing value for money, while not compromising on the menu, Pizzeria Mamma Mia is the place to be. Their pizzas are famous throughout Mayrhofen and you can come here with your family and friends without hesitation. The ambience is lovely, warm and welcoming.
This list will give you a comprehensive view of the culinary experience you can have while at Mayrhofen, but there are a few other restaurants which need mentioning, including Neuhaus Restaurant, Singapore Restaurant, Zillergrund (popular among the locals), Fleishhauerei Perauer, Bergrast, Sunalm and Andrea are also worth the price. However, the top 10 are at the top for a reason as you will see when you come to visit. Depending on your personal preferences, you can make several changes to the list for sure and rest assured it is going to be a lot of fun feasting on the traditional Austrian dishes among the most amazing of ski locations Austria has to offer.
So if you fancy a ski holiday in Austria and want to rent some ski accommodation in Mayrhofen you should check our rental listings and book a chalet in Mayrhofen or some luxury Mayrhofen apartments.