Seven reasons to go skiing in Italy
July 08, 2014
More often than not, when planning a ski holiday people focus on the high profile French and Austrian ski resorts like Chamonix, Morzine and The 3 Valleys in France and places like St Anton, Mayrhofen and Zell am See/Kaprun in Austria. Less known skiing resorts and in fact whole countries are overlooked in favour of more popular resorts. This is a mistake as often the well known resorts offer nothing more than crowded pistes, exorbitant prices and poor quality purpose built accommodation. If you are looking for a more authentic ski holiday, what to save some money but at the same time get quality accommodation and quality skiing then you should really consider some of the less publicized resorts. One great option that is often overlooking is skiing in Italy. With alpine borders to France, Switzerland and Austria it is no surprise that Italy offers top quality skiing.
Here are seven reasons that distinguish Italian ski resorts from its counterparts located in more traditional countries like France and Austria.
1. Cross-Border International Skiing
Did you ever think of crossing the border and enjoying skiing at the same time? It is not a difficult task in Italy and even skiers with only a week's experience are more than competent to "go international" and ski across borders. By the way don't forget your passport !!!
Claviere and the Milky Way to Montgenevre
Low key Claviere is a small commune located on the Franco-Italian border and offers an ideal environment for "cross country" skiing. If you are staying here you are lucky because the border post is just outside your chalet or apartment. The combined lift passes for Claviere and Montgenevre (in France) will help you get the most of this ski region, which is both high in terms of altitude (good for snow cover) and perfect for beginners as well as intermediates. A word of caution though – when returning from Montgenevre you will have two routes: one, involving a very reasonable piste that runs at valley level; the second, a black run with some tricky vertical drops, so before making a choice about how to head home check your level of your energy and courage.
La Thuile to La Rosiere
The La Thuile lift pass also includes all the lifts and runs just across the border in La Rosiere (France). International skiing here is a matter of daily routine as the pistes are regularly interlinked across both countries, although the majority of skiers are of the view that the Italian side is the best as it faces the North and East slopes and therefore carries the best snow.
Set off on your tour early in the morning, which will give you maximum time to enjoy the red runs that are located after the Napoleonic fort just at the outskirts of La Rosiere. Don't forget to visit one of the slope side restaurants for famous 'dejeuner en Francais' (breakfast) before decamping for home.
Cervinia to Zermatt
If you are staying in Cervinia you can reach Zermatt (Switzerland) within an hour and enjoy skiing on the slopes of Theodulgletscher yet at the same time evading the expensive Swiss costs and irritating queues for the cable cars.
If you are a real skiing buff, you must kick off your journey from Cervinia right on the first lift in the wee hours to get down to Zermatt village. On returning, get in one of the mountain trains going to Gornergrat for a tasty lunch before heading back to Italy in time for tea. Keep your passport with you because the Swiss authorities regularly check it on the border!
Check out this ski video from the Teodulgletscher area of Zermatt
Courmayeur to Chamonix
One of my favourite ski tours was a trip up from Courmayeur to ski the Vallee Blanche ending up in the heart of Chamonix town.
The only cable car that heads to Punta Helbronner is presently out of order until 2015 because it is being re-fitted, therefore you will have to walk for around 30 minutes to reach the glacier. As well as getting you warmed up before skiing this way has the adding advantage of getting rid of long queues and the heart-stopping precipices on the French side.
If this option down the Valle Blanche is not quite to your liking you can take a 30 minute bus trip through the Mont Blanc tunnel and enjoy a day skiing in Chamonix. One day of Chamonix skiing is often included on your Courmayeur ski package. Thrill seekers love to ski on Les Grand Montets while intermediates will be happy with Flegere and Brevent. All the three can be accessed easily on the Chamonix ski bus.
2. Shortest transfers in the Alps
While heading up to the Italian ski resorts in the Alps on a gravity-defying bus, expect a number of U-shaped bends that can end up making you feel palpitations. That aside, Italy has some of the shortest ski transfers in Europe.
The shortest transfer is from Turin to Sauze d'Oulx, which takes no more than an hour on the motorway. Another 10 minute drive on the motorway can bring you to the beautiful town of Bardonecchia.
Heading in the opposite direction, you use the A5 autostrade and within one hour and 45 minutes of motorway driving you will be in Courmayeur. After that, La Thuile is just another 20 minutes.
For high altitude resorts, head up to Cervinia, which takes just 90 minutes, or Sestriere which is a bit further and requires a drive of about 2 hours.
3. UNESCO World Heritage skiing & views
The Dolomiti Superski covers approximately 1220km– the entire area comes under the UNESCO World Heritage protection.
About 600 km of the ski area is connected with a gigantic loop known as the Sella Ronda. The anti-clockwise route of the Sella Ronda is comparatively easier, and anybody can make it round quite easily given that they have good stamina as well as a nice control of parallel turns. I know a girl who made it round after just two weeks experience. I can still recall the beaming smile on her face and an expression of pride displaying, indeed, her courageous adventure.
A host of other tracks can also be pursued including a trip to the museum located on the Marmolada glacier devoted to the Italian and the Austro-Hungarian armies who resided in the ice trenches on the glacier during the First World War.
And one last thing you must not miss during your trip: the Hidden Valley situated on the top of the Lagazuoi lift. There is a great spot for lunch about two thirds of the way down and after enjoying the descent make sure you have a couple of euros for rent a horse to get back to Alta Badia. A bus is also available if you don't fancy the horse ride.
4. Value for Money
As a ski destination, Italy has long been providing a fantastic value to skiers, even when compared with its top rivals France and Switzerland.
Livigno, a tax-free skiing destination located in the far off corner of Italy, provides ski school for less than half of the price of ski school in Nendaz, Switzerland. The higher value of your pound is also good news for skiers here – it is undoubtedly in the favor of British skiers when the 9% drop in resort costs is coupled with the better exchange rate.
Likewise, a six-day lift pass covering the Italy's Milky Way and another 400km of skiing will cost you 20% less than the six day pass for a 425km of skiing in French Paradiski, with the former being available at €180 as compared to over €250.
A ski holiday in Italy will definitely cost you less than neighbouring France or Switzerland and local food and drinks are also more affordable.
5. A Thriving Experience of Heli-Skiing in Italy
Italy is among the few European countries that offer a thriving experience of heli-skiing. It is still illegal in French resorts; therefore, if you are pursuing extremely off-piste experiences to get the best out of your ski holidays, go nowhere other than the renowned resorts located in the Aosta Valley.
In the Monte Rosa area, Champoluc and Gressoney are the best skiing areas that are considered the paradise for off-piste, heli-skiers. Here you can whizz around a few of the widest vertical areas of Europe– don't be surprised if you find Ski Sunday's Graham Bell in the same area.
During the summer season of 2011, he was the person who touched Summer Solstice while skiing over the prodigious Monte Rosa and returned by heli-skiing in April along with his daughter. After spending a full day heliskiing in company with his daughter Lottie as well as Herman's family from the Hotel Castor, he dropped at 4000m and then skied to Furi in Swiss.
Another slightly less known skiing area La Thuile has also been growing in fame for heli-skiing. Here the Ruitor glacier is the most famous route, which delivers a 20 kilometer run downhill to the centre of Ste-Foy in France, from where a half an hour taxi ride can bring you back at La Rosiere. After that, if you desire, you can use La Thuile lift pass for crossing the border to get back home to Italy.
6. Glacier Ski Resorts of Exceptionally High Altitude
Though a lot of people think right away about France when it comes to glaciers and extraordinary high-altitude skiing, Italy, which is just a border away from France, is also a great destination for the same purpose. After all, it is blessed with bordering one of the few highest mountains in Europe: Mont Blanc.
Italy's favorite high altitude ski resort is Sestriere, where most of the downhill sports events took place during the 2006 Turin Winter Olympics. The majority of skiing takes places high up on the mountain at 2050m, which means winter sport conditions remain favorable throughout the season.
Another favorite high altitude resort is Cervinia, located at 2035m. Local and foreign skiers visit the Plateau Rosa to enjoying glacier skiing all year round. The glacier area, located at 3,480 metres, offer 23km of slopes where the snow remains all year round and you can ski with the fresh air and summer sun on your face. The glacier opens for summer skiing from the end of June to early September every year and is an opportunity enjoyed by enthusiastic skiers and snowboarders from around the world, as well and some professional skiers who do their summer training here.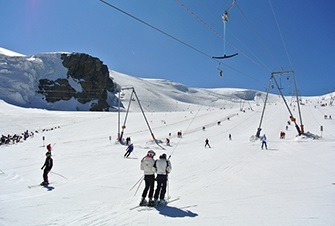 It is also worth visiting the Presena glacier in Passo Tonale, a great destination for beginner skiers to boost up their confidence. As this glacier is tucked away at 2730m in altitude, everyone including boarders, skiers and walkers can go up to the glacier base in order to explore the attractions, have a cup of coffee while fondling with the clouds, and receive some high-altitude sunshine (an experience that the Milanese enjoy a great deal – following the locals is always a good idea).
7. Family-friendly Environment
Italians are famous for giving family more importance than anything else. This tradition extends to the ski resorts too, with separate skiing tracks for children to take on their first tentative glide on their ski pads.
Claviere sits at the height of 1700m and retains great weather conditions throughout the season. Just infront of the ski school and beginners' area, you will come across the Grand Hotel Claviere, the home to both the Whizz Kids club and Pepi Penguin club. From babies to high-spirited teens, everyone is warmly welcomed here, and offered a great combination of allday childcare centre, lunch and ski school lessons by children-friendly guides.
If your children are also skiing enthusiasts just like you, and you like to ski together with them, then the small resort of Passo Tonale is ideal for them. Both accommodation and ski school are right next to the lift passes, so the kids can entertain themselves riding on a wide range of gentle skiing areas and sliding beside you at breakneck speed. Even if you are looking for some tricky slopes to burn some energy on a few solo runs, there are numerous blacks and reds to keep you challenged.
All in all the Italian ski resorts have a lot of offer. Give them a try this year and enjoy an unbeatable skiing experience as well as a relaxing and affordable holiday. If you need to book some ski accommodation in Italy try taking a look at this page.