Snow review – where to go for some Easter skiing
March 25, 2013
With Easter just around the corner and with lot's of resort heading in the Easter holidays with excellent snow conditions and more snow forecast this week there is still a lot of skiing left in the season.
During the week a lot of Alpine ski resorts experienced huge snowstorms. Mid week had blizzard conditions in a lot of the high altitude resorts and even the X Games in Tignes were temporarily delayed due to the wild weather.
No one is complaining though as the fresh to up means conditions are super across most of the alpine resort. In the Pyrenees the record snow levels continue as this years turns into one of the best even for skiing in the Pyrenees.
Right across Europe and North America lots of snow has been dumping
- bitterly cold weather and snow across the UK has hamper transport links. At the Scottish ski resorts access has been blocked temporarily while huge snow drifts are cleared.
- big snow falls across the Alps – with resorts in Austria, Italy and France seeing almost a meter of snow in 24hrs.
- Western Canada see heavy snow of up to 80cm
- Continued record snow levels in the Pyreenes
- even Europe's most southerly ski resort, the Sierra Nevada in Spain has snow levels over 4m.
France
The French ski resorts have experienced huge snowfalls over the last seven days.
Alpe d'Huez had a record level of snowfall this week with 1.35m over just seven days. A huge dump of 80cm fell on Sunday night alone. Alpe d'Huez had almost double the snowfall of other French resorts this week but the other resorts didn't escape the snow and several had quite big top ups to their existing snow base. 1.25m at Serre Chevalier, 90cm at La Plagne, 85cm at Les Arcs and 80cm at Val Thorens.
The deepest snow bases are at Tignes – 3.9m and Alpe d'Huez - 4.2m
The other main ski resorts in France had 30-40cm of new snow to top up the already excellent conditions and make sure that anyone heading on an Easter ski holiday in France will have more than enough fresh pistes to keep them happy.
The Pyrenees
What can we say !!! The season in the Pyrenees just continues to break all records. This week was a ittle
quieter in terms of new snowfall with just 30-50cm reported but the level of snow right across the Pyrenees ski resorts is more than enough to ensure quality skiing well into April. Both Andorra and the French Pyrenees resorts have had the most snowfall in Europe this year. Cauterets and Tourmalet both say 30cm of the fresh stuff this week.
Austria
More big snowfalls in Austria are keeping the pistes in perfect condition for the holiday weekend. Up to 75cm of fresh powder fell in the last week with the biggest falls happening on Sunday and Monday.
30-40cm of fresh snow fell in several resorts including St Anton, Solden, Kaprun, Lech and Ischgl.
The is still plenty of spring skiing in Austria with impressive snow depths in many of the resorts. Snow bases are 240cm in Hintertux, 175cm in Filzmoos, 280cm in Kaprun, 255cm in Lech, 250cm in Obertauern, 365cm on the Pitztal Glacier, 277cm in Solden and 250cm at St Anton.
If you are planning a ski holiday in Austria this week you are set for excellent skiing conditions with more light snowfall expected throughout the week.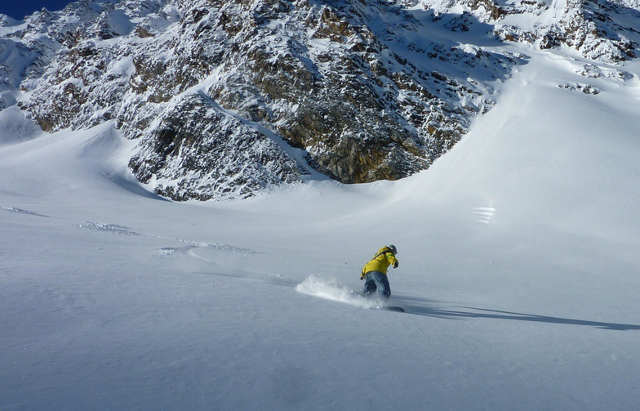 Switzerland
Lots of snow has fallen over Sunday/Monday in the Swiss ski resorts. Gstaad now has the deepest snow in Switzerland with 510cm of cover.
While not receiving the epic 1m plus falls experienced this week in the southern French Alps many of the Swiss resort have reported at least 30cm of new snow with big falls in Zermatt (60cm), Les Diablerets (45cm), St Moritz and Villars.
Verbier too has enjoyed fresh snow and this week saw lots of powder days for skiers and boarders in Verbier. This week also saw the Freeride World Tour it Verbier with some impressive offpiste extreme action. Read more here.
Italy
La Thuile in the western Alps and Arabba in the Dolomites both say in excess of 1m of new snow this week. Like the rest of the Alps most of the snow fell in Italy on Sunday and Monday. Cortina and Cervinia reporting over 50cm and currently have perfect spring conditions with excellent on piste conditions combined with beautiful sunny weather.
Bulgaria
Both Borovets and Bansko received new snowfall of about 30cm this week. Saturday was white out in Borovets with powder falling all day. Blue skies appeared on Sunday to make for an epic powder day all over the Markujik off piste bowl. A freak storm closed the Bansko ski lifts for one day last week due to extremely high winds day but on the plus side the storm brought in new snow to freshen up the pistes. Bulgaria's most southern ski resort, Pamporovo is still enjoying good conditions although on sunny days the pistes can get soft in the afternoons. If you are planning an Easter ski holiday in Bulgaria there is still perfect conditions on the high pistes with the lower pistes good in the mornings and getting a little slushy in the afternoon.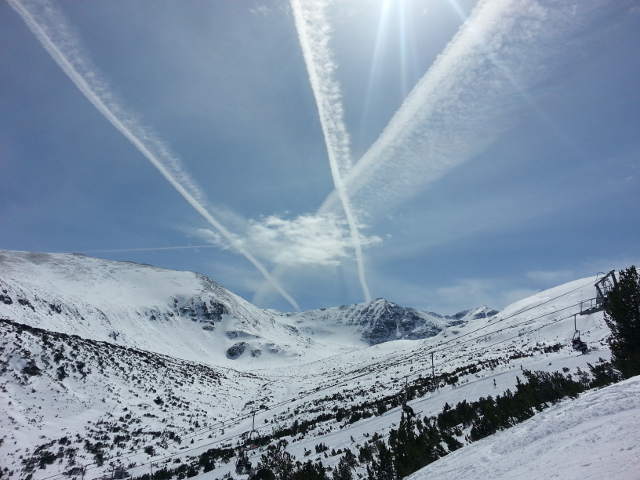 USA
The snow in America has been a little quieter this week. Certainly nothing to match the levels in the Alps.
The biggest falls have been in Vermont and Colorado with Aspen, Deer Valley, Vail and Breckenridge seeing some 30-40cm. There are still some pretty impressive snow deeps and no shortage of snow in the America resorts
Mammoth has 4.8m of snow base just now, Winter Park 180cm, Breckenridge 190cm, Snowmass 170cm, Tahoe 250cm.
Canada
Western Canada joined with Europe this week to experience almost a meter of snow in the last seven days.
Fernie has over 70cm of new powder and a snow base of 2.8m. Banff and Lake Louise also enjoyed 30-40cm of powder and conditions are excellent in both resorts at the moment. This week looks a little quieter in terms of fresh snowfall but there is already more than enough snow in the Canadian ski resorts to keep skiers and boarders perfectly happy.
If you are heading away for the Easter weekend we hope you enjoy the great ski conditions at the moment and have a super ski holiday wherever you choose.